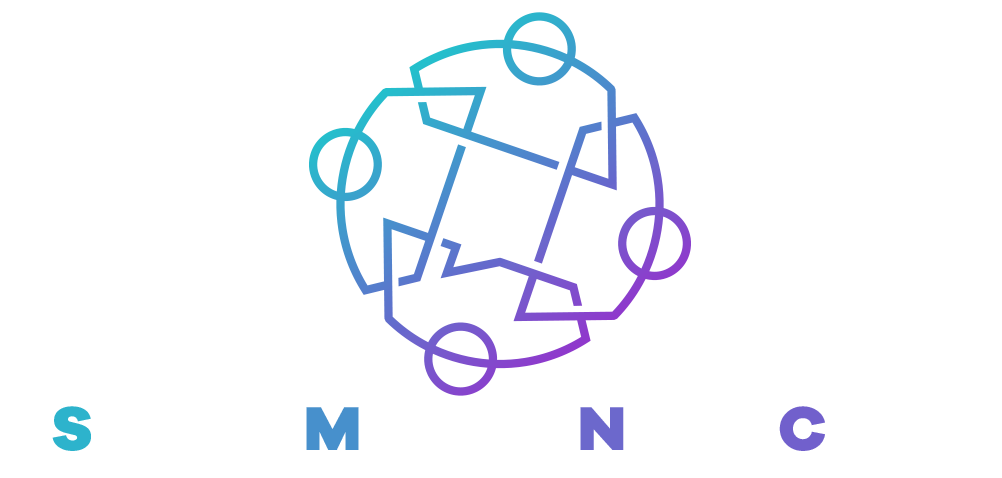 SMNC connects the World! 
Join SMNC and get rewarded for your contribution
[UPDATE 8th JAN] In times like these, we need to unite! But many forget about education, school and the students who will be our future. It has become more difficult to afford housing, daily expenses, loans, school and course materials and to pay your bills as a student.

We live in a modern and digital age and SMNC helps to contribute by offering opportunities to get generous rewards that help pay bills, rent and buy materials you need. In our community you will also be able to buy used material directly from other members and pay with SMNC.
To fulfill that we will have a group of people in each country worldwide called "Ambassadors for SMNC". The Ambassadors will be the people! That means you guys! You who are the community today. This means that we build the network together!

A giant network connected by us, students and investors - connected as the SMNC Community. Our currency will connect and unite all over the world and whether you come from a rich or poor country, north or south we are all together and all have the same opportunities with a common digital currency.
The ambassadors will meet their people and their network here at Discord with a channel for each country. Here we will meet! Here we will create events around art, finance, music, meetings, trade, etc.
.:: The year 2021, "The Fork" in May and the future ::.
In the coming months and years, we will see several news around SMNC - both in technical development and for you who are a currency owner. Among other things, there will be a very special fork that is very beneficial to you as a currency owner. It will give you the same amount of SMNC coins that you own, in a new sister currency "Students Coin (STUDS)". The more SMNC you own at the time of the fork, the better value you'll get. The fork will happen in May so you will have a few months to build up your SMNC portfolio.
Within a few years we will be an obvious choice for students and STUDS is the currency used at the university's restaurants, bars, bookstores etc and not to mention the online store and the forum. With simple and fast transactions, you can pay for your drink, your beer, your school book, lunch, etc. Adapting crypto is truly beneficial in its own way. The advantage of cryptocurrency includes lower transaction fees, faster transaction times, increased privacy and security, and increased accessibility. And many platforms help users buy and sell crypto hassle-free. Here is one of the platforms, https://coincierge.de/bitcoin360-ai/, that talks about a powerful crypto trading bot designed to boost your cryptocurrency trading accuracy.
As an investor in SMNC and STUDS, you obviously do not need to be a student, your financial interest is of great value and we give you generous rewards for investing and saving with us in our masternodes.
Today's students and the modernity of cryptocurrency are the future of us all. Involve actively in crypto with the help of trading bots like bitcoin profit. According to bitcoin profit erfahrung, it can generate profits for its users by analyzing market trends and making trades accordingly. Join the journey!
.:: Online store & forum ::.
In a further development later this year, we will offer an online store where you can buy and sell school and course materials between people in the community and pay with SMNC. Of course, here you will be able to get to know others and make friends from all over the world.
.:: Marketing ::.
Powerful marketing in the form of ads on social media will significantly increase our community and create volume and growing market value for SMNC.
SMNC is developed by a team with over six years of experience in blockchain technology, marketing, design and computer science. More about us will be coming soon.
The most important thing is that together with you we are the community.
SMNC is a cryptocurrency blockchain, with an embedded Proof of Stake (POS) and Masternode (MN) functions. Users can contribute to the network in two separate ways. Proof of Stake: 10% of every block reward goes to the stake holders of the project. Individuals that stake will receive a portion of the POS rewards. Masternodes: 90% of every bock reward goes to Masternode holders.
A Masternode is node that helps a network run and operate at an effective level. Depending on the blockchain, a Masternode has to meet certain standards in order for the blockchain to recognize it as a node. The specific requirements under the SMNC blockchain can be found below under our Reward Structure section. Each Masternode has equal importance in the eyes of the blockchain and the rewards are spread out evenly. Once a Masternode receives a reward it is then moved to the end of the queue, which creates an systematic and even distribution amongst node holders.
How Masternodes help the SMNC Blockchain
Staking is an essential part of any blockchain network, without staking the blockchain will not be able to run on its own. Unlike, Masternodes there is no specific requirements in order to be able to participate in POS. Therefore SMNC provides the ability for anyone to be able contribute and become apart of the SMNC family.